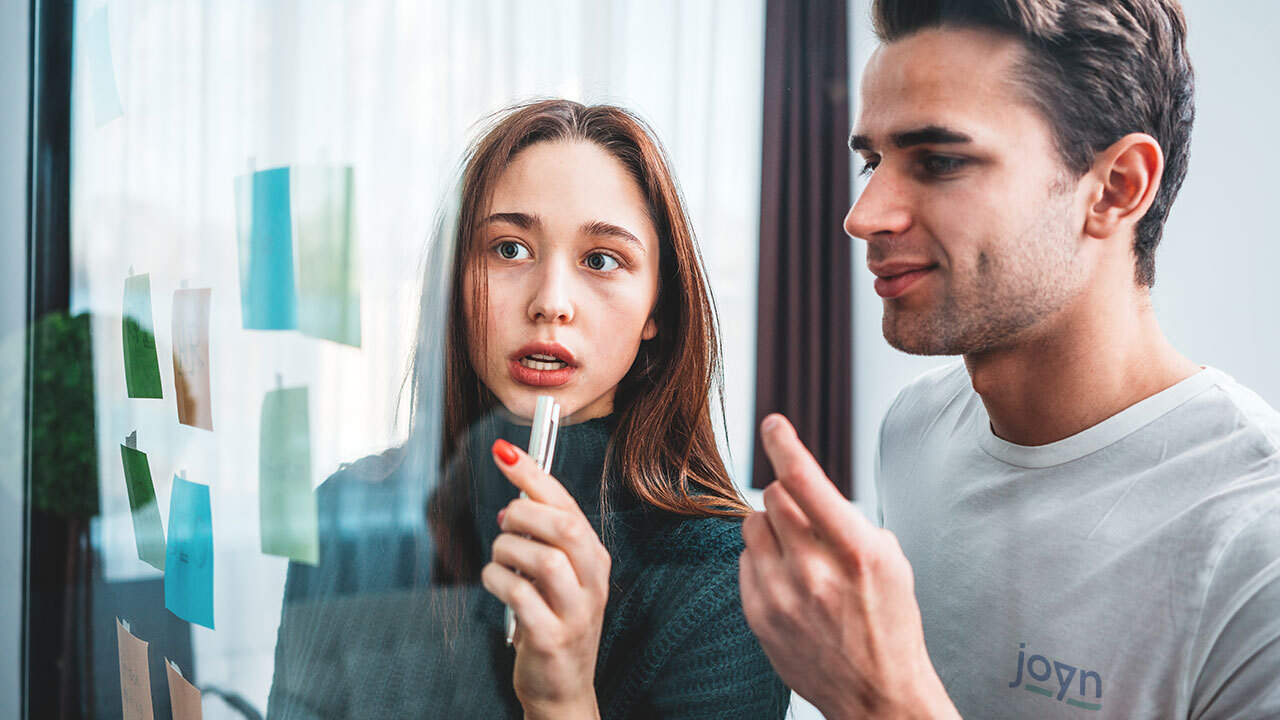 04 aug

Are you our new Senior Growth Marketer?

We're looking for a Senior Growth Marketer who is tech-savvy and is eager to maximize their strengths and skills. You love optimizing marketing activities and figuring out creative and effective ways to create growth, lead generation and user acquisition.

Mission
Analyse, Brainstorm. Prioritise and Design experiments
Able to think outside the box, bring know-how to the team and set up experiments in a structured and logical way.
Automate everything you can (manual work = big no)
Think of new tactics & strategies to implement within Joyn
Daily challenges
Analyze competitor conversion funnels and beat them in their own game.
You are hungry to learn and coachable. We invest heavily in making each other better.
You show passion for the marketing industry and best practices thereof.
Bias towards immediate action and results. You've got to love measuring your own progress.
Willingness to take responsibility and accountability that comes with the autonomy you'll get.
You are very proficient in English. Any additional language is a big plus.
You will work with and report directly to the management.
Soft skills / requirements
Bachelor's degree
5+ years of user acquisition, growth hacking or advanced digital marketing experience, either in B2B, B2C/E-Commerce or Talent Acquisition
Tech savvy
Self-motivated and entrepreneurial
Data-driven decision maker and analytical
Creative thinker
Familiar with using and configuring CRM and Marketing Automation Tools
Excellent written and verbal communication skills
Proven experience writing for a variety of channels
Fast learner (A commitment to continuous learning )
Action-oriented and a "do-er"
Comfortable speaking to clients and prospects both on and offline
Good design eye
Understand basic UX principles
Great project management skills
Your shopping list
Experiment and implement new growth strategies to boost customer acquisition and retention
Generate quality leads by developing and executing innovative marketing campaigns that fit with client marketing strategy
Optimize and manage clients's online presence and engagement
A/B test new tools and campaigns to increase lead generation and reach
Track, benchmark and analyze campaigns to make recommendations on media spend
Design creative marketing messages and assets to create impactful content
Develop original and innovative content and strategies to improve SEO and increase visibility
Create viral growth through referral marketing and other growth marketing techniques
Proactively track and improve Share of Voice on forums & review sites
Stay up-to-date with the latest marketing tools, trends, and strategies
Identify high-impact marketing opportunities; plan, experiment, iterate, learn and optimize constantly
Develop and track KPIs for clients
Adapt plans to target different user segments
Aggressively research new ideas and strategies
What's in it for you:
Fun, fun and more fun. On the one hand, you will start in a young and dynamic company with enormous potential, in which you will be given every opportunity to give the best of yourself. You will be well supported to further develop your qualities.
On the other hand, you will be immersed in the world of (local) retailers and you will get to know the daily ins and outs of the entrepreneurs who keep our community vibrant.
In addition, we offer you:
A unique story at a future-oriented employer that is ambitious and growing;
A dynamic work environment with a lot of freedom and autonomy;
A challenging position with a lot of variety;
Training to make your sales qualities even better;
The opportunity to grow personally within and together with our organization within sales or towards marketing, for example;
Attractive salary, a company car, extra legal benefits and attractive sales commissions;
Do you have questions? Send an e-mail to karl.vankerckhoven@joyn.eu.
Joyn, we love local (talent)
Joyn, that is the match between consumers, merchants and cities. At Joyn we want everyone to be able to live in a fun, authentic and sustainable community. 
Through Joyn's digital loyalty card, we offer a user-friendly savings system and associated marketing tool for independent retailers, large or small. Our loyalty program offers local merchants the opportunity to get to know their customers better and reward the loyal customers with a variety of fun benefits and experiences. In this way we support local entrepreneurs in building a successful business while keeping our society vibrant!
Today Joyn already has more than 1.8 million active Joyn card users and more than 7,500 merchants throughout Belgium, expanding towards Germany, France and the Netherlands.