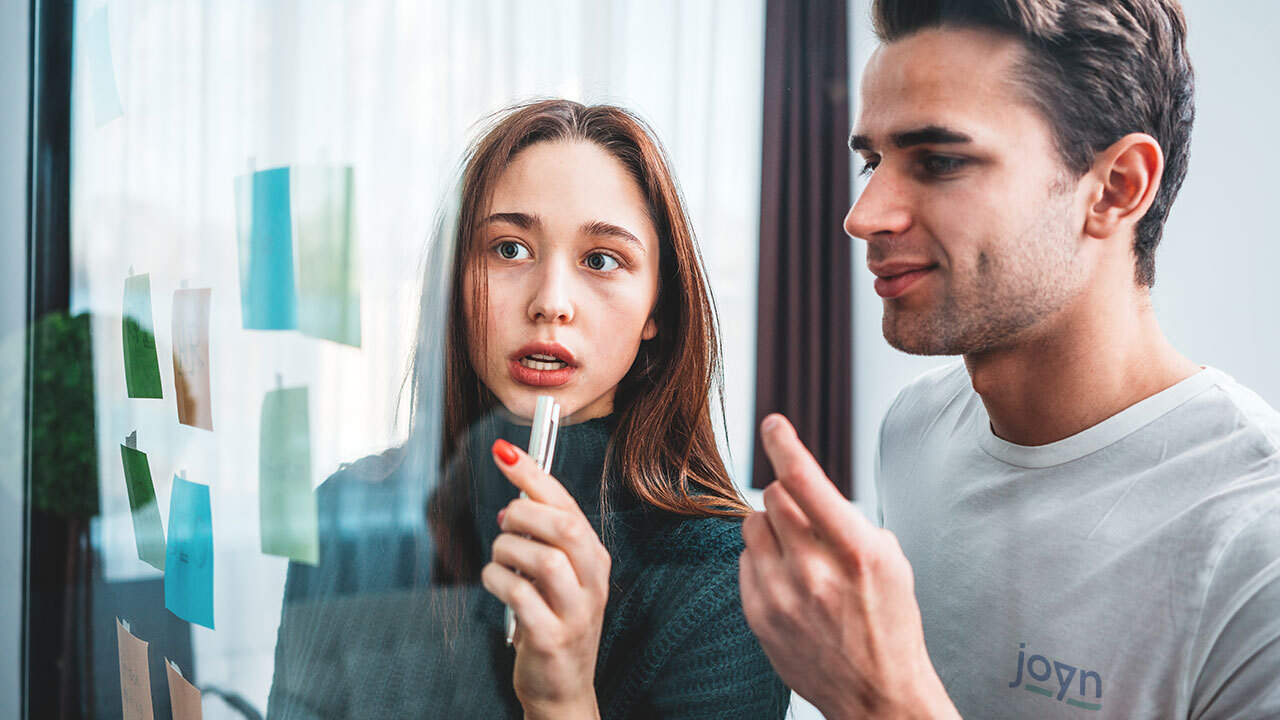 04 Août

Are you our new Senior Growth Marketer?

We're looking for a Senior Growth Marketer who is tech-savvy and is eager to maximize their strengths and skills. You love optimizing marketing activities and figuring out creative and effective ways to create growth, lead generation and user acquisition.

Mission
Analyse, brainstorm, prioritise and design experiments
Able to think outside the box, bring know-how to the team and set up experiments in a structured and logical way
Automate everything you can
Think of new tactics and strategies to implement within Joyn
Analyze competitor conversion funnels
Bias towards immediate action and results
Take responsibility and accountability that comes with the autonomy you'll get
Develop and track KPI's
Experiment and implement new growth strategies to boost customer acquisition and retention
Generate quality leads by developing and executing innovative marketing campaigns that fit with client marketing strategy
Optimize and manage Joyn's online presence and engagement
A/B test new tools and campaigns to increase lead generation and reach
Track, benchmark and analyze campaigns to make recommendations on media spend
Design creative marketing messages and assets to create impactful content
Develop original and innovative content and strategies to improve SEO and increase visibility
Create viral growth through referral marketing and other growth marketing techniques
Stay up-to-date with the latest marketing tools, trends, and strategies
Identify high-impact marketing opportunities
Adapt plans to target different user segments
Requirements
Bachelor's degree
3+ years of user acquisition, growth hacking or advanced digital marketing experience, either in B2B, B2C/E-Commerce or Talent Acquisition
You show passion for the marketing industry and best practices thereof.
Tech savvy
Great project management skills
You are very proficient in English. Any additional language is a big plus.
Self-motivated and entrepreneurial
Data-driven decision maker and analytical
Creative thinker
Familiar with using and configuring Hubspot and other marketing automation tools
Excellent written and verbal communication skills
Proven experience writing for a variety of channels
Action-oriented and a "do-er"
Understand basic UX principles
What's in it for you
Fun, fun and more fun. On the one hand, you will start in a young and dynamic company with enormous potential, in which you will be given every opportunity to give the best of yourself. You will be well supported to further develop your qualities.
 On the other hand, you will be immersed in the world of (local) retailers and you will get to know the daily ins and outs of the entrepreneurs who keep our community vibrant.
In addition, we offer you:
A unique story at a future-oriented employer that is ambitious and growing;
A dynamic work environment with a lot of freedom and autonomy;
A challenging position with a lot of variety;
Training to make your sales qualities even better;
The opportunity to grow personally within and together with our organization within sales or towards marketing, for example;
Attractive salary, a company car, extra legal benefits and attractive sales commissions;
Do you have questions? Send an e-mail to luk.balcer@joyn.be 
Avez-vous entendu parler de Joyn ?
Joyn est le "perfect match" entre les consommateurs, les commerçants et les villes. Chez Joyn, nous voulons que chacun vive dans un environnement chaleureux, authentique et durable. Grâce à la carte de fidélité numérique de Joyn, nous proposons aux commerçants, grands ou petits, un système de fidélité convivial et un outil de marketing complet. Notre programme de fidélisation offre aux commerçants la possibilité de mieux connaître leurs clients et de récompenser les clients fidèles par toutes sortes d'avantages et d'expériences amusantes. Pour que ces clients aient envie de revenir encore et encore. 
De cette façon, nous soutenons les entreprises locales dans la construction de leur avenir et nous contribuons à maintenir le dynamisme de notre société ! 
Aujourd'hui, Joyn compte plus de 1,8 million d'utilisateurs actifs et plus de 7 500 commerçants dans toute la Belgique.